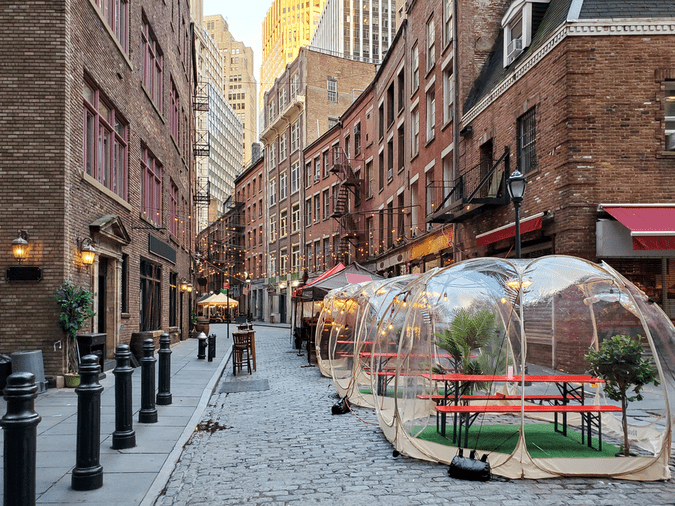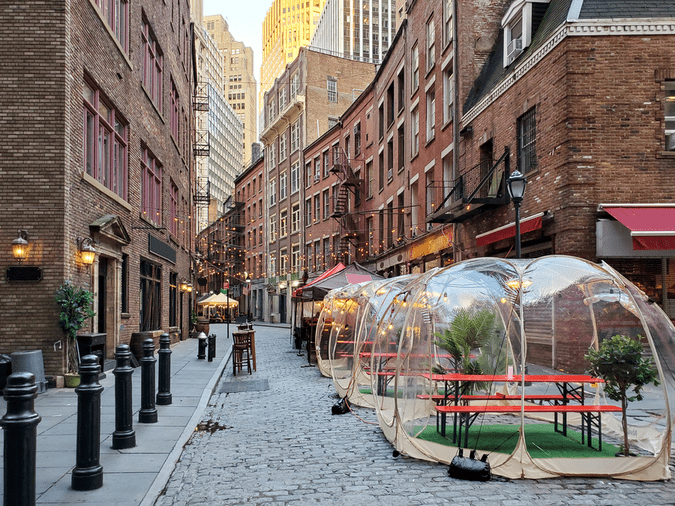 Protect Your Investment with Restaurant and Bar Liability Insurance So Everyone Can Have a Good Time Inside and Outside
As spring arrives and milder temperatures lure restaurant guests to leafy outdoor patios, airy cocktail lounges and al fresco dining, business owners may wonder, "Does my liquor liability and bar insurance extend outdoors?"
And, do I need bar insurance? We've got the answers to these questions:
What is bar insurance?
What does bar liability insurance cover?
What are dram shop laws?
How do I protect my business with liquor liability or bar insurance for off-premises incidents?
How much does bar insurance cost?
What is Bar Insurance?
Typically, bar insurance – also known as tavern insurance – protects owners of bars and restaurants with a variety of coverages customized for their specific needs. Coverage is generally categorized as commercial property insurance and commercial liability insurance. Bar liability insurance policies typically use this type of language: "We will pay those sums that the insured becomes legally obligated to pay as damages because of injury to which this insurance applies if liability for such injury is imposed on the insured by reason of the selling, serving, or furnishing of any alcoholic beverage at your premises."
What does bar liability insurance cover after a patron leaves my premises?
Be careful. Bar, pub and tavern owners must verify that their liquor liability insurance policies cover off-premises incidents and claim exposures. Many liquor liability insurance policies only cover incidents that take place at the bar or restaurant's premises. Insurance coverage may be excluded for beverage delivery, or for incidents that occur on an adjacent patio, sidewalk, or DORA (Designated Outdoor Refreshment Area).
What are dram shop laws?
When a bar or restaurant is sued because an allegedly intoxicated guest causes an injury to a third party, dram shop laws may impose responsibility to the bar or restaurant that served the alcohol. Dram shop laws provide a remedy for recovery of damages for the parties who suffered the injury. Bars and restaurants often purchase liquor liability insurance coverage to provide protection for that possibility. This type of coverage is usually tied to the sale or service of alcoholic beverages on your premises.
However, what if the incident occurs off premises, such as in a DORA (Designated Outdoor Refreshment Area)? Does coverage apply?
Be sure to read the fine print of your liquor liability or bar insurance policy. We recommend policies that include a definition of "your premises" that is much broader than just the address listed on the declarations page of the insurance policy.
How do I protect my business with liquor liability or bar insurance for off-premises incidents?
At Evarts Tremaine, we guide our clients in the use of specific endorsements – often called riders — to appropriately expand the definition of "your premises" for businesses that typically have an off-premises liquor liability exposure.
It's important to note that not all insurance companies make these endorsements available to their policyholders. Evarts Tremaine specializes in providing customized insurance coverages for bars, taverns and restaurants with endorsements that include entities such as:
Caterers
Distributors
Wineries
Breweries, Craft Breweries, Micro Breweries
Distilleries
Bars and Restaurants that participate in a DORA
How much does liquor liability or bar insurance cost?
Most bars and restaurants recognize that they have a degree of liability exposure when they provide alcohol at their premises. That liability does not change if the alcohol is provided off-premises; however, the insurance coverage may be different. Business owners should consult with their insurance broker to make sure that their insurance coverage properly matches their exposure to loss. Liquor liability and bar insurance policies can start at $500 per year and go up from there. Underwriting considerations that affect pricing include live entertainment such as a DJ or bands, dance floors and games such as pool tables or shuffleboard, claim history, and hours of operation.
Contact us to review your bar and restaurant liquor liability insurance policy with our experienced professionals to make sure you're ready to protect yourself and your guests as outdoor patio season arrives across much of the United States.